Are you traveling to South Florida in the near future? Do you love getting in the outdoors? We have the perfect outdoor activity for you and the whole family. Bring your loved ones along for an inshore fishing charter in South Florida with our local experts. You can catch a variety of species and everyone can have fun. Enjoy a February South Florida Inshore Fishing Charter on your next visit to the sunshine state!
Several locations in South Florida have been extremely productive. Miami, FL is an absolutely breathtaking destination known for many things including its inshore fishing. Miami's Biscayne Bay is a vast are that harbors excellent fishing all year long. Whether you want to fish the flats, bridges, or jetties, here at iOutdoor, we can make it happen.
Orlando, FL is another prime location for inshore fishing here in South Florida. The canal fishing is fantastic for a wide vartiety of fishing depending on the style you enjoy. Stroll down Las Olas Canal or near 17th Street and catch numbers of fish. Hold on cause the fight can be strong.
Each location will give you a unique experience of what Florida Inshore Fishing is all about. Every opportunity you get to explore these wonderful areas should be taken advantage of. Our local expert and Professional Captain Brian Leibowitz has you covered when it comes to fishing these destinations.
Here is an South Florida Inshore Fishing Update: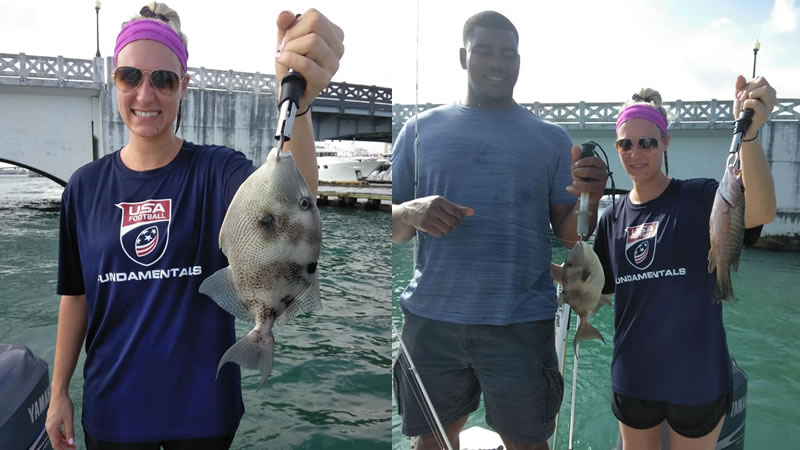 Captain Brian Leibowitz had the pleasure of fishing with Le'Raven Clark and his wife Kristen. Le'Raven is a football player for the Indianapolis Colts. They were traveling to Miami, FL from Texas looking for some vacation time. While doing so, Miami Inshore Fishing appealed to their outdoor interest. Biscayne Bay suited all their needs and is one amazing place to experience Miami. 
Le'Raven and Kristen had a fantastic time on the water with Captain Brian. One amazing thing about Miami is that you can catch a wide variety of species. They caught numbers of speckled sea trout on the grass flats casting Berkley Gulp shrimp. After catching them up, they moved over to the bridges and structure. It open a whole new door of species including numbers of Mangrove Snapper and Triggerfish.
Some days of fishing you will never forget. Captain Brian stated that this morning fishing trip was one that he or they will never forget. It was a fantastic experience for all parties.
Captain Brian is looking forward to the next opportunity to do this again!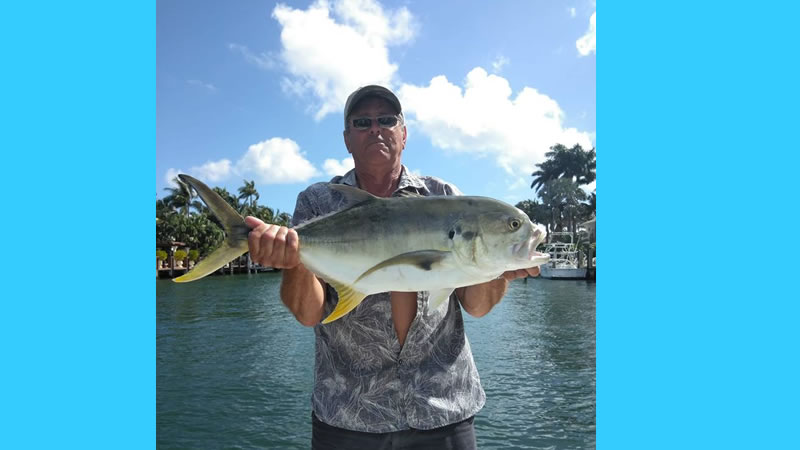 It was not long after this fishing trip that Captain Brian adventured further north to Orlando, FL. He had the pleasure of fishing with Alan and his friends, Tim and Dave. They were traveling from Michigan looking to explore what South Florida had to offer.
The Orlando Canals came in strong for these friends. They had 4 big fish on that broke off before they could get them to the boat. One of the unfortunate parts about Florida Inshore Fishing is that sometimes you lose the fish you are after. Alan fought and caught a monster jack crevalle weighing close to 15 pounds. Jacks are a great fish to catch as they fight very hard and long.
Alan and his friends had a great experience here in South Florida while inshore fishing. They will be back for more action. Captain Brian is looking forward to their next adventure in the near future!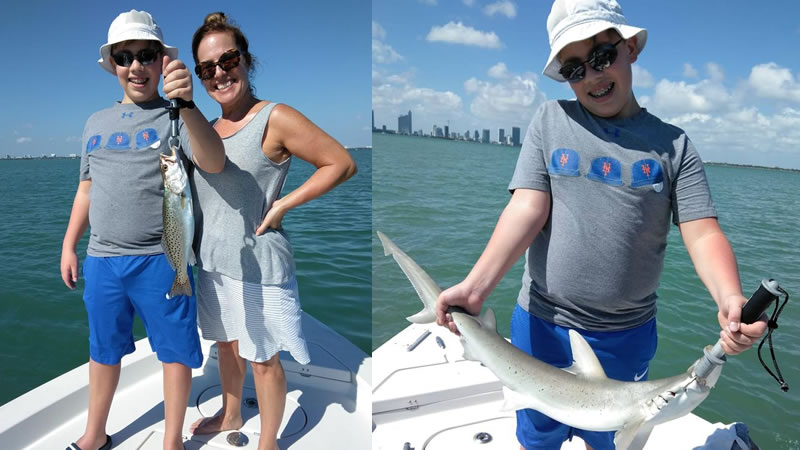 Shortly after this awesome fishing trip, Captain Brian was back down in Miami's Biscayne Bay. This time, he had the pleasure of fishing with Ben and his mom, Randy. The action was not as strong as the last trip here in Miami but they had a great time. Fishing is not always about catching but about soaking in the sun and bonding with your loved ones.
Ben caught all the fish on this fishing trip. He landed a good looking quality Sea Trout along with a bonnethead shark. Miami offers many species and every time you cast your line out, you never know what will bite the end of your line.
Randy really enjoyed her time with her son in Miami. They will be back for more action in the near future! Captain Brian is looking forward to their next adventure!
Miami, FL or Orlando, FL is a beautiful place to explore. You have endless options especially when you want to get in the outdoors. Miami Inshore Fishing is one of the best ways to get a great view of the city. Whether you want a good fight or a fresh meal for the night, we have you covered here with our local experts. We look forward to assisting you on a fishing adventure of a lifetime right here in sunny South Florida!!
Your Adventure Starts Today while Visiting Florida.If you enjoyed this post about Florida Fishing, you might also enjoy our Fishing Blogs.